The Advantages of Hosting a Holiday Party at a Cozy Neighborhood Bar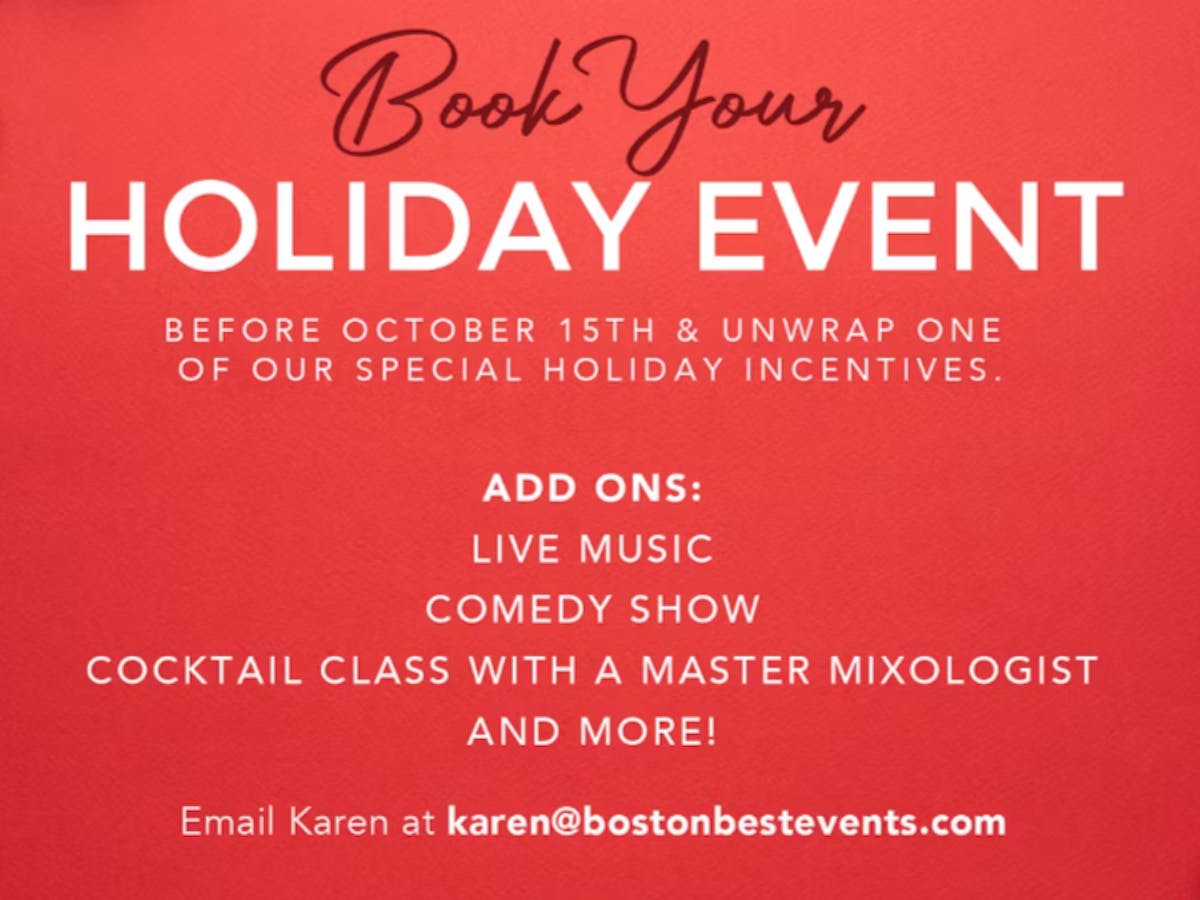 Are you trying to get ahead on planning your holiday party this year? Planning a holiday party in advance has many benefits, including discounts on the venue add-ons, reducing your stress before the busy time of the year, and announcing to your employees, friends, and family where and when the party will be. Luckily, Back Bay Social offers all those items and more to assist you with your party planning tasks.
Why Host a Private Holiday Event?
Hosting a holiday party is a great way to bring friends, family, and coworkers together to celebrate the season. While there are many party hosting options, one great choice is to have it at a cozy neighborhood bar. There are several advantages to hosting a holiday party at a bar, including a laid-back atmosphere, a wide range of drink options, and the convenience of not having to worry about cleaning up after the party. Plus, bars often have holiday-themed decorations and music, which can add to the festive spirit of the occasion. Overall, choosing to host a holiday party at a Back Bay Social can make for a fun and stress-free event for everyone involved.
Stress-Free Planning
Holiday parties are a great way to celebrate and unite people, but planning them can be stressful. It's important to start early and stay organized to make the process as stress-free as possible. Set a budget, create a guest list, and choose a venue that fits your needs. Additionally, ensure you send invitations out once your venue is booked to get an accurate head count. When it comes to decorations, keep it simple and focus on a few key areas, such as the table settings and a festive centerpiece. Finally, don't forget to take some time to relax and enjoy the party yourself! By following these tips, you can plan a stress-free holiday party that everyone will enjoy.
Socializing Opportunities
Holiday parties are a wonderful opportunity for socializing with friends, family, and colleagues. They allow everyone to let loose and have fun outside the usual work or home environment. Whether you're catching up with old friends, making new connections, or simply enjoying the festive atmosphere, a holiday party can be a great way to socialize and connect with others. Hosting a private holiday party at a cozy neighborhood bar like Back Bay Social can provide the perfect atmosphere for socializing, with a relaxed and welcoming environment that encourages conversation and interaction among guests.
Holiday Party Incentives at Back Bay Social
With the holiday season rapidly approaching, start planning your private holiday party and unwrap some festive specials when booking your holiday event at Back Bay Social. Booking your private event at Back Bay Social before October 15th gives you access to unwrap one of our special holiday incentives. Spicing up your holiday event starts will adding on live music, a comedy show, a cocktail class with a master mixologist, and so much more. Get started booking your event by emailing Karen at karen@bostonbestevents.com to gain access to a range of special perks to enhance your experience! For more information about booking a holiday event at Back Bay Social for your company, friends, or family, contact our team by calling (617)247-3200 and ask how you can incorporate our incentives into your planning to create a memorable and enjoyable party!