Why You Should Host Your Next Private Event at Back Bay Social In Boston!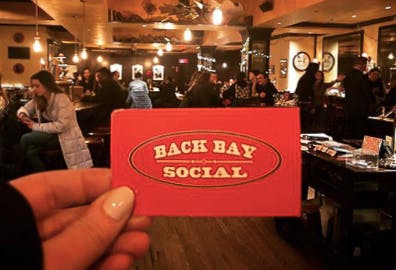 With grad season in the air, consider celebrating the graduates in your life with a private party at Back Bay Social in Boston! Back Bay Social is located in the heart of Boston's Back Bay neighborhood. We host a variety of events of all sizes, big and small. Semi-private and fully private party options are available to guests. We are equipt to host your event with quality service and fine dining options!
Venue options. We've hosted events from birthdays, rehearsal dinners, corporate events, and more! Keep on reading to learn more about hosting your event with us at Back Bay Social.
Event Space
Here at Back Bay Social, we have two event spaces available for private events. The first space we offer event access to is the downstairs area. This area is suitable to hold events with 55-100 people. This space features a fully stocked bar and is capable of hosting banquet-style dinners as well as cocktail-style receptions. If you would like to host a seated dinner this space is semi-private and there is a standing capacity for up to 100 guests. For larger events, we suggest hosting your event in our upstairs main dining room. This space has a capacity for 130-200 people, making it perfect for larger functions. This space has a view of Boston's iconic Boylston St. Featuring access to a large fully stocked bar and a lot of seating space. This space can be semi-private but is also available for a full buy-out. A member of our staff would be happy to help you figure out which space would be best for your event.
Function Menu
We offer a special menu for Private Events at Back Bay Social that features a wide variety of dishes. Starting with a selection of hot and/or cold appetizers such as shrimp cocktail, sliders, and mac & cheese bites to name a few. That will be passed around by our wait staff. You also have the option to opt into appetizer stations. These stations can feed about 10-15 people and feature items like spinach & artichoke dip, Jack Daniels Meatballs, and cheeseboards. For dinner, we offer three-course seated meals as well as a buffet option. Rest assured no matter which style you choose there were be plenty of options for everyone in attendance. For drinks, you have the option of having an open bar, cash bar, or custom drink tickets.
Private Events at Back Bay Social in Boston
Host your next event at Back Bay Social in Boston! We are prepared to create an evening you and your guests won't forget! Fill out an inquiry form to get started and in the meantime browse over our menu to get a better idea of what food options you would like to choose for your event. Call us at (617)-247-3200 with any questions or concerns about private events. We look forward to hosting your next event at Back Bay Social!