Kiss Me, I'm Irish Bar Crawl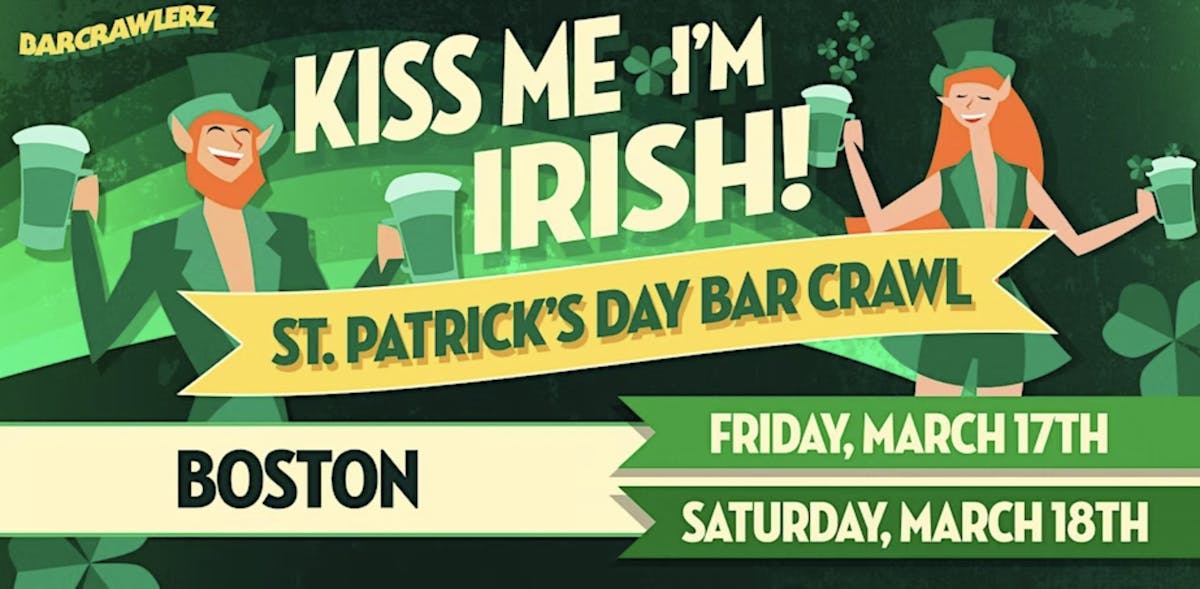 Boston Barcrawlerz is unlike any other bar crawl in the city. "Kiss Me, I'm Irish" features the city's most popular drink specials and bars. Would you like to learn more about how you can enjoy this Saint Patrick's themed event? Find out what to expect & all the details below!
What?
The process is as follows:
The first step is to purchase your bar crawl wristband in advance.
Then, get your wristband and map from Back Bay Social, at 867 Boylston Street, so that you know where to find participating bars and what drink specials they are offering. Wristbands must be picked up between 6 and 11 pm on Friday, 3/17 & 2 and 8 pm on Saturday, 3/18.
The wristband allows you to enter any participating bar without a cover charge, plus you'll receive drink specials all night. Unless otherwise indicated on the map.
Last but not least, the most important thing is to have fun!
When?
The event takes place over two days! This event will start at 6 pm on March 17, 2023, and it will last until 2 am on March 18, 2023. Buy your tickets now while they are still available because this bar crawl is unlike any other in Boston!
Where?
Bars participating in the event are listed below:
Back Bay Social [Registration]

A.T. O'Keefe's

The Bebop

Nash Bar & Stage

Rochambeau

Rock Bottom Brewery

Sidebar

Sullivan's Tap

Summer Shack

The Tam
Back Bay Social is the designated hub of this bar crawl. You'll register here, find your map for the event, and indulge in our drink specials! You don't want to miss out! Visit this link here to purchase your tickets or give us a call at (617) 247-3200 with any questions.