Join Our Black Irish Bar Crawl!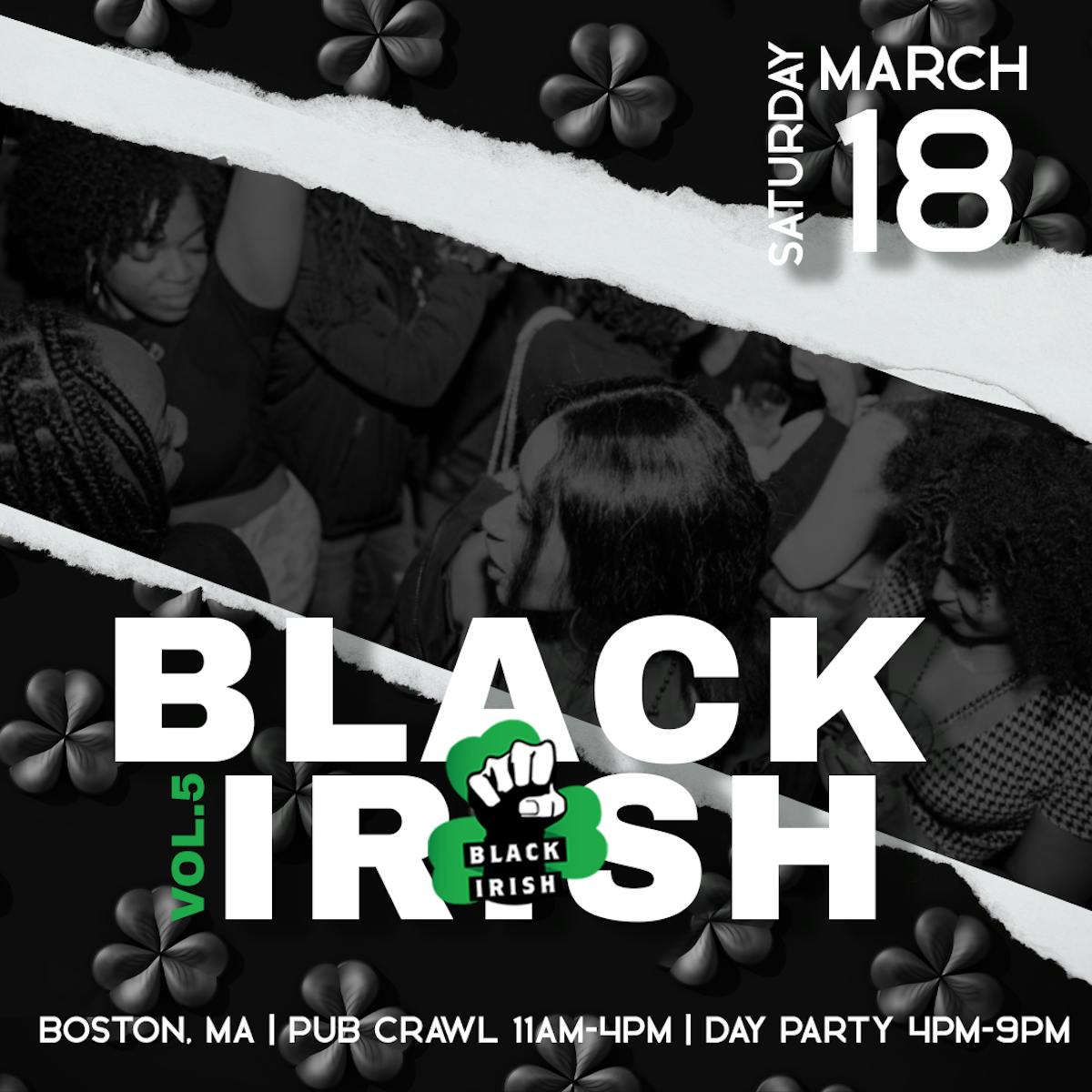 What's up Pub Crawlers? It's been a while! We hope you all have been healthy and safe. Black Irish is back with Vol. 5! We're looking forward to seeing both familiar and new faces join the fun and help us celebrate 5 years in this game…6 if you count 2020. Below are details for this year's event.
The Details
Per usual we will be taking over these Boston streets. The crawl portion of the event is back and better than ever. Folks will be able to eat, drink, play games, and compete in challenges to win prizes. While the Pub Crawl will be free, the Day Party will have a cover charge and will require tickets (like previous years).
A New Addition to 2023
Did we hear you say: Teams? We are talking about Teams this year. We are partnering with BENT, Boston YBP, and Teachers' Lounge to help us lead Teams. These organizations will serve as Team Captains for the Pub Crawl portion of the event. Want to be on their Team? Make sure you register your name on the correct ticket.
Registering on a team is first come and first served. If the team is full, please select another team. Registering for a select team may not guarantee that selection.
Black Irish Vol.5 is powered by: Uncle Nearest! Uncle Nearest is #MoreThanWhiskey and is teaming up with retailers, outlets, restaurants and bars across America from January 16 to March 31, 2023, to raise $1 Million for Historically Black Colleges and Universities (HBCUs). Learn about the #HBCUchallenge here
Catch Uncle Nearest during our event in the City of Boston
Quick Recap
What: Black Irish Pub Crawl + Day Party Vol. 5
When: Saturday, March 18th, 2023
Time: 11 AM - 10 PM
Stay Plugged In
Instagram (IG): Follow us on IG to stay plugged on updates, ticket drops, and promos. We'll be posting all flash sales and early bird updates on IG first! Follow us HERE
Black Irish Vol.4-ish recap: Click HERE
Merch: Shop Black Irish Merch HERE
Please note: the Pub Crawl + Day Party are two different events on the same day that require two different tickets. Please read the fine print when registering and buying your tickets.
Disclaimer & Vibe Check
By taking part in this event you grant the event organizers full rights to use the images resulting from the photography/video filming, and any reproductions or adaptations of the images for fundraising, publicity, or other purposes to help achieve the group's aims. This might include (but is not limited to), the right to use them in their printed and online publicity, social media, press releases, and funding applications. In addition, all email addresses will be shared with all organizations involved in this event.
Our events are created for people to come together to create memories in a safe space. We ask that everyone treat all patrons and venue staff with respect. Good Vibes Only!!
Join Us on March 18th at Back Bay Social
This event will be held at Back Bay Social from 11 am to 10 pm. For a whole day filled with fun times, good music, and even better company, be sure to get your tickets today. For more information about the Black Irish Bar Crawl at BBS, don't hesitate to contact us today. We're more than happy to answer any questions! Give us a call at (617) 247-3200.